Personalized Valentine's Day Gifts - For Him and for Her
Searching for the perfect gift for your Valentine this year? We've got you covered! CuttingBoards.net carries a variety of pre-engraved cutting boards and personalizable options that make wonderful presents with a personal touch. The best part about our gifting options is that they are not only aesthetically pleasing, but also highly functional! Use these boards for entertaining of all types or chopping vegetables for dinner. These boards are also a great addition to kitchen decor. Check out a few options below:
For Him:
CuttingBoards.net has a variety of meaningful and comical engraved boards perfect for your boyfriend or husband on Valentine's Day. If your S.O. is the type who lives for the grill and is always having friends over for a barbecue check out the boards below.
The " Eat. Drink. BBQ." cutting board is ideal for everyone's favorite grilling guy. What makes this board special is that it is made of Richlite - a material that can withstand direct contact with temperatures up to 350º Fahrenheit. Ideal for use by a hot grill!
Does your significant other love to bake? Check out the " They See Me Rollin', They Hatin'" cutting board for a gift that will bring a smile to their face. This board will change their baking game forever!
For the guy that likes to unwind with a nice cigar on special occasions, go for the Personalized Walnut Cigar Tray. Made with high-quality, durable, and beautiful walnut wood, this tray can be personalized with any initial in-house with our lasers. The dark hue of this walnut wood will fit perfectly in his man cave.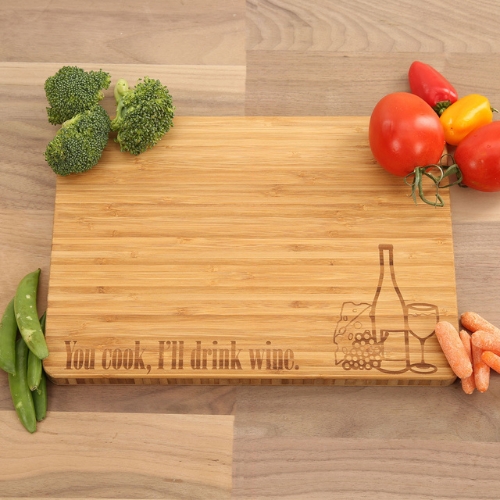 For Her:
We have several options for the lovely lady in your life - whether she uses her boards for cooking or simply entertaining. Browse a few best-selling options, listed below.
The " You Cook, I'll Drink Wine" cutting board can be used for cooking, serving, or as a fun piece of kitchen decor. Get this for the one who enjoys sipping on her favorite wine while be served!
For the lady who loves a cold glass of wine at happy hour while entertaining friends, the " Wine & Friends Coaster Set" coasters are the only way to go when gifting on Valentine's Day. These are great for couples cocktail hour as well, and a fun way to protect your tables from water damage.
The " Season Everything with Love" cutting board is the perfect gift with a subtle, yet sentimental message for the woman who loves to cook, and cooks with care! This board is made with bamboo wood, meaning it's as durable as
For Couples
For a more romantic gift that will bring both of you together while cooking your favorite meals on date night, we have a great selection of couples cutting boards available for purchase on CuttingBoards.net.
Our Heart Engraved Cutting Board is a sweet way to commemorate your marriage through a personalized gift. Each bamboo board comes complete with you and your partner's initials engraved within a heart and your anniversary date engraved below. In addition to the beautiful engravings, these bamboo boards are also easy to clean and very durable.
The Elegance Engraved Cutting Board provides the most elegant touch to any kitchen while also being highly functional. Our Elegance boards are engraved with the first names of you and your partner in a circular shape with your anniversary date or any other significant date engraved below in a classically chic font. These boards are also perfect for those who mean business when they cook. Each board is made of Richlite which is heat resistant up to 350º Fahrenheit, making them a must-have for high-heat cooking.
Show some love for the significant other who is always down to make a charcuterie board. The Happily Ever After Large Circle Maple Cutting Board is a gorgeous round maple board with a sweet "happily ever after" phrase engraved along with each partner's name and your anniversary date. The light maple wood and round shape is ideal for a perfectly placed cheese board on date night.


No matter the type of cutting or serving board you plan to give your special person, we have a cutting board to create the perfect moment this Valentine's Day. Need more help with choosing the best gift? Give us a call at (866) 450-4503 or email us at support@cuttingboards.net.