CuttingBoards.net wants to make it easy for you to get a custom cutting board - whether it's a different shape or a custom engraving - if you can think it, we can make it! Our cutting boards are made from the best materials out there and we like to make the purchasing process as easy as possible. We've tried to answer the most frequently asked questions below, but if you think of anything not listed feel free to email us or call us!
We make our boards from three different materials: high density polyethylene, richlite, and bamboo. Each material is great in its own way and one of them is sure to fit the best need for you!
---
High Density Polyethylene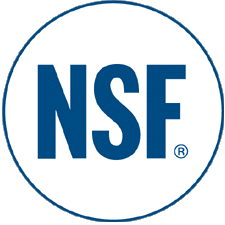 All of our Commercial Plastic Products are listed by NSF!
Our HDPE cutting boards are listed directly on NSF's website. Check it out here! What does that mean? That not only our material, but our facility has been approved to safely manufacture cutting boards. The cutting board which is right for you should have all of the below to insure absolute kitchen safety.
H.A.C.C.P. Compliant and Recommended
USDA Approved
Cleaned easily due to a smooth, durable, nonabsorbent surface
Plastic cutting boards are less porous than wood, making it less likely to harbor bacteria and easier to clean
All of our Plastic Cutting Boards are listed by NSF!
---
White Poly Cutting Boards

White poly boards are the most popular in commercial kitchen use. Most equipment manufacturers use these as the standard boards for prep tables and similar equipment.

They are also great for home use. The qualities listed below make the white poly boards stand out compared to other materials.

Stain resistant
Non-absorbent
Resistant to chipping or cracking
Resistant to bending
Warp resistant
Our boards will NOT dull your knives
---
Color Poly Cutting Boards
Made from the same commercial grade material as the white poly. These boards can be used to prevent cross contamination in a commercial kitchen or you can buy one of the colors to brighten up your kitchen!

Red - Raw Meat
Blue - Raw Fish and Seafood
Green - Vegetables
White - Dairy and Cheese
Yellow - Raw Poultry
Tan - Cooked Meats
---
Richlite Cutting Boards
What is Richlite? Originally made for aerospace and industrial markets, it is made from resin-treated paper, which is then pressed and baked to create a solid and durable sheet.

Richlite has become extreamly popular in commercial kitchens because it can handle up to 350 degree heat. That means you can set a pot or pan on it and unlike poly cutting boards, it will not burn or melt! Richlite is also will last up to 3x longer than poly cutting boards.
---
Bamboo Cutting Boards
Bamboo cutting boards are a great option instead of using wood. Bamboo does not retain water as wood does and will not warp or crack. These boards should still be maintained by hand washing them.

Bamboo boards convey a modern elegance that will lead to a tasteful look for a stylish kitchen. The material is also highly renewable